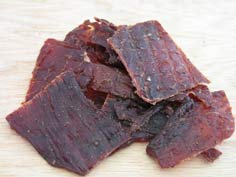 Beef Jerky
Ingredients:
1 1/2 pounds beef (or any meat type)
2 tablespoons soy sauce
1 tablespoon grated ginger
1/4 teaspoon black pepper
1/4 cups lime juice
2 tablespoons Worcestershire
1 teaspoon red pepper – crushed
1/8 teaspoon liquid smoke
cooking spray
Directions:
Cut your meat into 1/8″ to 1/4″ thick slices. (It may help to slightly freeze before hand)
Mix lime juice, soy sauce, Worcestershire, ginger, both types of pepper and liquid smoke.
Add meat and coat.
Cover and refrigerate for at least 6 hours.
Dry meat according to your dehydrator.
best beef jerky